Academic Performance and 'Value Added'
Updated - June 2022
We use a range of internal and external, qualitative and quantitative, measures to assess the progress of each child and the overall value-added achievement of our pupils. We are very proud of the academic progress achieved by the Sandroyd children.
Our academic curriculum ultimately aims to prepare children for Common Entrance and Scholarship exams. We believe both Common Entrance and Academic Scholarships provide robust 'high stakes' exit exams for the Sandroyd children. The knowledge and skills developed in our curriculum prepare children for the challenges required at GCSE and beyond. Above all though, we aim to inspire children to engender a love of learning.
GL Assessment Data
Sandroyd uses GL Assessment Progress tests to track pupils' progress in a number of subjects over time. These external tests assess various skills and provide a standard age score (SAS). Nationally, the average score is 100 and is based on age-related expectations.
If a pupil achieves a SAS score of 100 and then scores 100 the following year, they will have achieved progress in line with the national average. A horizontal trend line would represent this in the graph below. However, if this pupil had achieved a score greater than 100, then they would have made progress that is greater than expected.
Our bespoke database (Sandfly) analyses all of our pupils' results on a biannual basis. We aim to significantly exceed progress compared to the national average. Our success is highlighted in the two graphs below, both showing positive trend lines over several years.
Sandroyd's average measured SAS scores by year group, with the trend line reflecting the last 6 years of data. (Combined PTE, PTM, NVR, VR)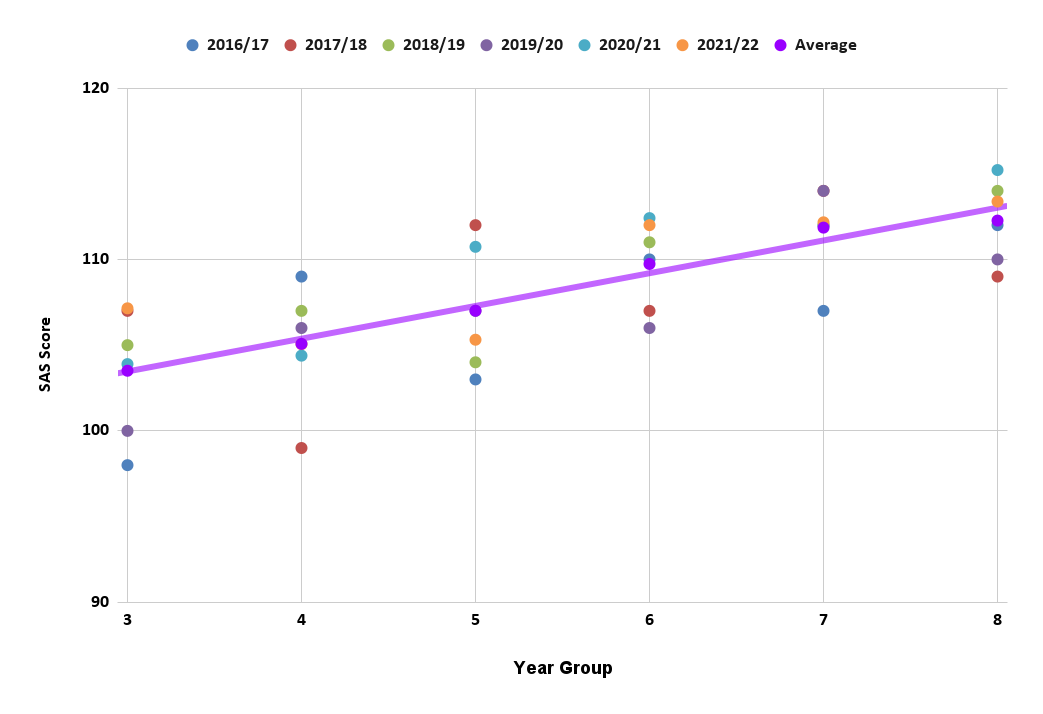 Sandroyd's current Year 8's range of SAS scores as they have progressed through each year group in the school. (Combined PTE, PTM, NVR, VR). Note the increase in both the lower and higher range scores.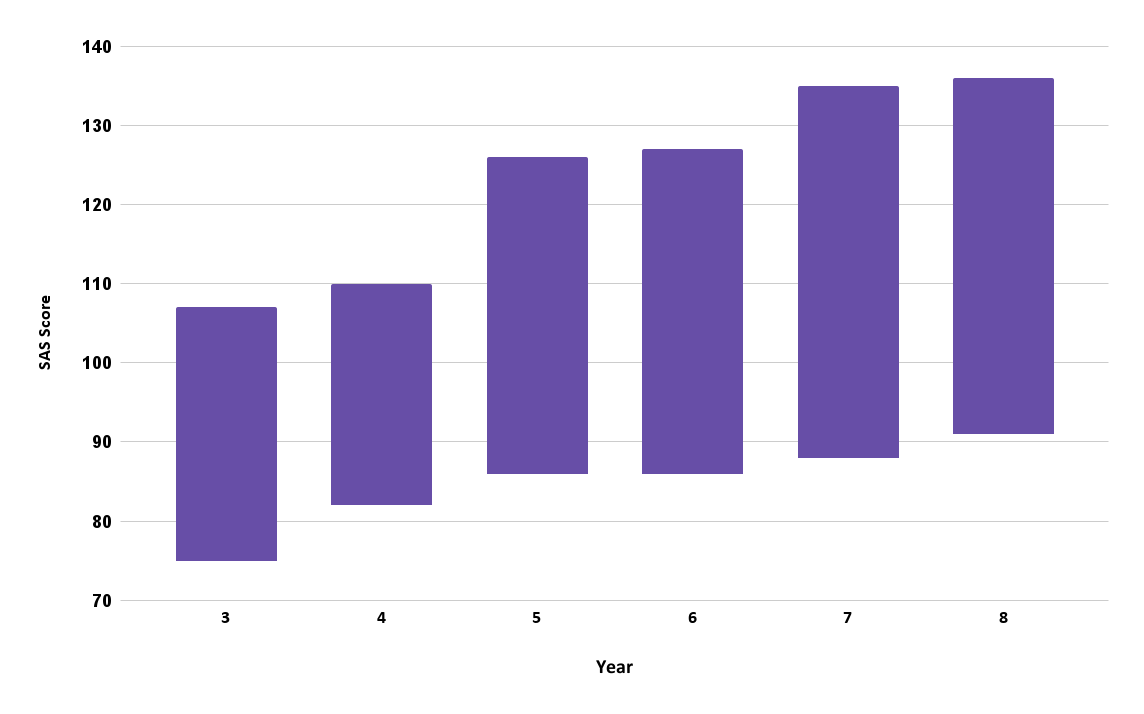 Academic Scholarships
In addition to our published Common Entrance results, a number of children sit and are awarded academic scholarships each year. Over the past five years, 40% of our leavers who have gone on to public schools have gained a scholarship award. Our scholarship results for the academic year 2022/3 can be viewed below:
Academic
Charterhouse
Marlborough
Monkton
Radley (Exhibition)
St Mary's Calne
Art
Bryanston
Charterhouse
St Mary's Calne
Drama
Bryanston
Monkton
Sherborne Girls
Sport
King's Bruton
Sherborne Boys
Sherborne Girls
Music
DT
All-Rounder